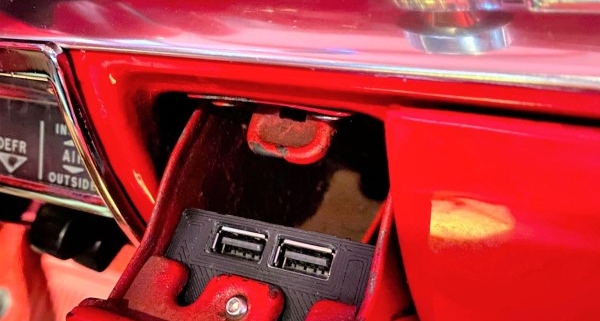 Classic Chargers designs and manufactures hidden USB ports for classic vehicles.  These stealth USB chargers enable electronic devices to be charged from any classic car or truck.
Classic Chargers USB charging ports will not compromise the look and feel of the vehicle interior. They are discreetly mounted inside the unused ashtray. There are no holes to drill in the dash. No unsightly modern gadgets protruding from the lighter socket.
If your vehicle's classic car insurance policy requires a stock interior, our USB charging ports are the solution you need as they are completely out of sight until needed.
Open the ashtray to plug in a phone, tablet, laptop, navigation aid, e book or whatever mobile device that needs charging. Close it back up when it isn't being used and nobody will know it is there.
Classic Chargers USB ports for classic vehicles work with 6 volt or 12 volt electrical systems without modification. Simple to wire and compatible with positive ground systems too.
Display 15 Products per page